Posts for tag: invisalign
By Herman Salzberg, DDS
February 21, 2017
Learn about Invisalign from your Palatine dentist.
Does straightening your teeth seem like more trouble than it's worth? Although metal or ceramic braces were the only options for years, there's another choice today. Dr. Herman Salzberg, your Palatine, IL, dentist, explains how the Invisalign braces system can straighten your smile without wires.
How does Invisalign work?
The Invisalign system uses a series of removable aligner trays to gently change the position of your teeth. Because the trays are clear, they're practically invisible. The trays are designed using special software that creates a 3-D model of your mouth. Your dentist can manipulate the model to see how the aligners will move your teeth.
You'll receive multiple sets of aligners and will begin using a new set every two weeks. The aligners can be taken out to eat and should be worn 22 hours per day.
What orthodontic issues does Invisalign correct?
Invisalign is effective in correcting mild to moderate orthodontic issues, such as:
Overbites
Underbites
Crossbites
Open bites
Gaps
Crowding
If you're a teenager, you'll need to wear your aligners for about the same length of time you would wear traditional braces. Adults may only need to wear the aligners for one year.
What are the advantages of Invisalign?
Life is easier when you choose Invisalign. You won't have to worry about pieces of food getting stuck in brace wires, plus you can continue to eat anything you want. Brushing and flossing can be more complicated when you traditional wear braces. Because you'll remove your aligners to brush your teeth, you won't need to make any changes to your usual oral hygiene routine, unlike your friends who opt for metal or ceramic braces.
Many people like the flexibility of the Invisalign system. If you wear traditional braces and play sports, you would need to purchase a special mouthguard that fits over your braces. Unfortunately, a blow to the mouth could still damage your braces or cut your lip, even if you wore your mouthguard. When you choose Invisalign, you can remove the aligners and use a standard mouthguard during practices and games.
Straighten your teeth the easy way with Invisalign. Call Dr. Salzberg, your Palatine, IL, dentist, at (847) 359-6766 to schedule your appointment.
By Dr. Salzberg
May 29, 2011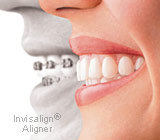 If you are insecure about your misaligned crooked teeth, then you may be a perfect candidate for clear orthodontic aligners. This system is an alternative to traditional braces that uses a sequence of individual, clear, removable "trays" that fit over your teeth to gradually straighten them. Each tray is completely clear and covers all the teeth thus making it virtually invisible. Each tray is designed to slightly move the teeth until the teeth are in proper alignment. Typically, each tray must be worn for 20 hours a day for 2 weeks before progressing to the next tray in the sequence with each tray moving you closer towards your goal — perfectly aligned teeth.
However, clear orthodontic aligners are not for everyone. If you are interested and wonder if they can benefit you, contact us so that we can schedule an appointment for a thorough evaluation to assess your specific situation. Below, we have briefly outlined some situations when they will and will not work.
Clear orthodontic aligners work if...
You have mild to moderate crowding or spacing issues between teeth
Back teeth fit together properly
They may not be the right choice if...
You have moderate to severe crowding or spacing issues between teeth
When your bite does not align properly (for example, if you have a large over-, under-, or cross-bite)
When your teeth are "rotated" way out of position; such misaligned teeth will require special or complex techniques to rotate them back into position, or to pull them down into place or to fill the space left after pulling a tooth to resolve excessive crowding of teeth
Want to learn more?
Contact us today to discuss your questions or to schedule an appointment. You can also learn more about this topic by reading the article "Clear Orthodontic Aligners."