Posts for tag: common symptoms
By Dr. Salzberg
August 21, 2011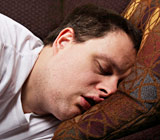 Nearly everyone has snored at some point in life. However, if your sleeping partner routinely tells you that you suffer from this problem, you really should take action to confirm or deny your suspicions. You may be like one of the 50 to 70 million people in the US alone that suffer from Obstructive Sleep Apnea (OSA), a medical condition in which the upper airway (the back of your throat) collapses during sleep thus limiting your intake of oxygen. And this condition is serious. If left untreated, OSA can lead to a stroke, impotence, an irregular heartbeat, heart attacks, high blood pressure, and other forms of heart disease.
The first and most important step you should take if you snore is to obtain a thorough examination by both your primary-care physician and our office. We have completed specialized training in sleep medicine so that we can not only diagnose but also thoroughly treat your sleep disorders.
If you are diagnosed with this problem, relax. We have many ways we can treat your condition. One of the most common methods is to provide you with oral appliance therapy. This first line of treatment involves our making a customized oral appliance (mouthpiece) that will hold your lower jaw forward. By doing this, we can move your tongue away from the back of your throat so that your airway is less likely to get blocked while you sleep. (It is this blockage that causes the infamous snoring sound.)
Another option we may consider using to treat your sleep apnea if it is moderate to advanced is a Continuous Positive Airway Pressure (CPAP) machine. These machines require you to sleep with a mask over your nose and/or mouth and produce continuous pressure in your windpipe so that your tongue is forced forward away from your airway. Not only can these machines potentially eliminate your snoring, but they can also give you the restful night's sleep that you have been missing.
The last and most permanent solution for treating certain non-responsive cases of sleep apnea is surgery. This option is typically reserved for the most advanced cases to eliminate or reduce an obstruction to the airway.
Contact us today to discuss your questions about sleep apnea or to schedule an appointment. You can also learn more about sleep apnea when you continue reading the Dear Doctor magazine article "Sleep Disorders & Dentistry."
By Dr. Salzberg
March 28, 2011
Did you know that Americans spend nearly 3 billion dollars each year on fresh breath remedies including gum, mints and mouthrinses to address their fears of halitosis (bad breath)? This simple fact clearly reveals that Americans are obsessed with having pleasant breath. Some other interesting statistics on this subject include:
60% of women and 50% of men say they use breath freshening products like candy, chewing gum and sprays
50% of middle-aged and older adults have bad breath
25% of the population has chronic bad breath
20 to 25% of adults have bad breath due to their smoking habits
However, the best way to determine what is causing your bad breath is to have a thorough dental exam followed by a professional cleaning. The first important step of this process begins when we obtain a thorough medical history. This includes asking you questions so that we can:
Identify your chief complaint and whether or not your bad breath is noticed by others or just a concern you have
Learn about your medical history as well as what medications (prescription and over-the-counter), supplements, and vitamins you are currently taking
Learn about your dietary history to see if pungent foods such as garlic and onions are foods you often eat that are contributing to the problem
Conduct a psychosocial assessment to learn if you suffer from depression, anxiety, sleep or work problems
Identify personal habits such as smoking cigarettes, cigars or a pipe that contribute to your bad breath
To learn more about the causes and treatments for halitosis, read the Dear Doctor article, "Bad Breath — More Than Just Embarrassing." Or you can contact us today to schedule a consultation for an examination, cleaning and treatment plan.
By Dr. Salzberg
March 07, 2011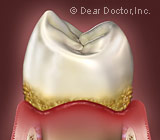 Since the dawn of man, periodontal (gum) disease has impacted humans. And while dental health has dramatically improved over the generations, the facts are still clear — millions of Americans are suffering from gum disease and probably do not even know that they have a problem. This is because periodontal disease most often starts without any symptoms or ones that most people tend to discount or ignore.
Stage 1: Gingivitis. The first stage of gum disease is inflammation of the gingiva (gums) without bone loss. While nearly all people will develop gingivitis in the absence of good oral hygiene, only 10 to 15% of them will go on to develop more advanced stages of the disease.
Stage 2: Early periodontitis. With this stage, gingivitis progresses into the deeper periodontal structures — the tissues that attach the teeth to the bone resulting in early or beginning bone loss. About 10% of the population develops full-blown periodontitis with progressive bone loss.
Stage 3: Moderate periodontitis. The third stage of gum disease results in moderate bone loss (20 to 50%) of root surfaces of the teeth due to continued destruction of the surrounding tissues and bone. Periodontal disease is "cyclical" — it goes in cycles with bursts of activity, followed by a period in which the body tries to recover. This is called chronic inflammation, or frustrated healing.
Stage 4: Advanced periodontitis. With the final stage of gum disease, there is severe bone loss (50 to 85%) from the tooth's root. This stage includes looseness of teeth, moving teeth, abscess formation with red, swollen and painful gums. The end results — eating and even smiling is difficult and uncomfortable, and you could lose all your teeth.
You can learn more about gum disease in the Dear Doctor article, "Understanding Gum Disease."
Have We Described Your Mouth?
If any of the above stages sounds like we are talking about your mouth, contact us today to schedule a consultation, discuss your questions and receive a thorough exam. If addressed promptly and with commitment to following your treatment plan, your mouth can return to good oral health.