Posts for: September, 2016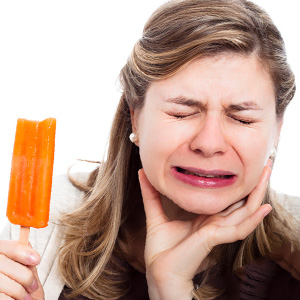 If you're one of over 30% of Americans who wince in pain when eating and drinking certain foods and beverages, you may have tooth sensitivity. Although there are a number of possible causes, the most common place to look first is tooth dentin.
Lying just under the enamel, dentin consists of tiny tubules that transmit sensations like pressure or temperature variation to the nerves of the inner pulp. The enamel, the gums and a covering on the roots called cementum help dampen these sensations.
But over-aggressive brushing or periodontal (gum) disease can cause the gums to shrink back (recede) and expose the dentin below the gum line; it can also cause cementum to erode from the roots. This exposure amplifies sensations to the nerves. Now when you eat or drink something hot or cold or simply bite down, the nerves inside the dentin receive the full brunt of the sensation and signal pain.
Enamel erosion can also expose dentin, caused by mouth acid in contact with the enamel for prolonged periods. Acid softens the minerals in enamel, which then dissolve (resorb) into the body. Acid is a byproduct of bacteria which live in dental plaque, a thin film of food particles that builds up on teeth due to poor oral hygiene. Mouth acid may also increase from gastric reflux or consuming acidic foods or beverages.
Once we pinpoint the cause of your tooth sensitivity we can begin proper treatment, first and foremost for any disease that's a factor. If you have gum disease, we focus on removing bacterial plaque (the cause for the infection) from all tooth and gum surfaces. This helps stop gum recession, but advanced cases may require grafting surgery to cover the root surfaces.
You may also benefit from other measures to reduce sensitivity:Â applying less pressure when you brush; using hygiene products like toothpastes that block sensations to the dentin tubules or slow nerve action; and receiving additional fluoride to strengthen enamel.
There are effective ways to reduce your tooth sensitivity. Determining which to use in your case will depend on the cause.
If you would like more information on tooth sensitivity, please contact us or schedule an appointment for a consultation. You can also learn more about this topic by reading the Dear Doctor magazine article "Treatment of Tooth Sensitivity: Understanding Your Options."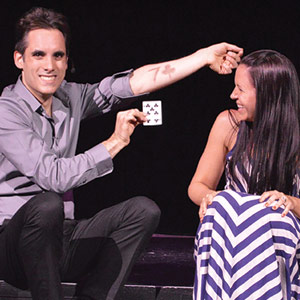 Magician Michael Grandinetti mystifies and astonishes audiences with his sleight of hand and mastery of illusion. But when he initially steps onto the stage, it's his smile that grabs the attention. "The first thing… that an audience notices is your smile; it's what really connects you as a person to them," Michael told an interviewer.
He attributes his audience-pleasing smile to several years of orthodontic treatment as a teenager to straighten misaligned teeth, plus a lifetime of good oral care. "I'm so thankful that I did it," he said about wearing orthodontic braces. "It was so beneficial. And… looking at the path I've chosen, it was life-changing."
Orthodontics — the dental subspecialty focused on treating malocclusions (literally "bad bites") — can indeed make life-changing improvements. Properly positioned teeth are integral to the aesthetics of any smile, and a smile that's pleasing to look at boosts confidence and self-esteem and makes a terrific first impression. Studies have even linked having an attractive smile with greater professional success.
There can also be functional benefits such as improved biting/chewing and speech, and reduced strain on jaw muscles and joints. Additionally, well-aligned teeth are easier to clean and less likely to trap food particles that can lead to decay.
The Science Behind the Magic
There are more options than ever for correcting bites, but all capitalize on the fact that teeth are suspended in individual jawbone sockets by elastic periodontal ligaments that enable them to move. Orthodontic appliances (commonly called braces or clear aligners) place light, controlled forces on teeth in a calculated fashion to move them into their new desired alignment.
The "gold standard" in orthodontic treatment remains the orthodontic band for posterior (back) teeth and the bonded bracket for front teeth. Thin, flexible wires threaded through the brackets create the light forces needed for repositioning. Traditionally the brackets have been made of metal, but for those concerned about the aesthetics, they can also be made out of a clear material. Lingual braces, which are bonded to the back of teeth instead of the front, are another less visible option. The most discrete appliance is the removable clear aligner, which consists of a progression of custom-made clear trays that reposition teeth incrementally.
How's that for a disappearing act?!
If you would like more information about orthodontic treatment please contact us or schedule an appointment for a consultation. You can also learn more about the subject by reading the Dear Doctor magazine article "The Magic of Orthodontics."