Posts for: September, 2011
By Dr. Salzberg
September 11, 2011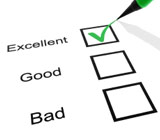 How good of a job are you doing with brushing and flossing your teeth? This is an important question, because a healthy mouth depends on regularly removing dental plaque (a whitish, sticky film of bacteria that grows near your gumline and on the surfaces of your teeth).
Daily Plaque Removal
Most people need to brush and floss at least once a day to remove plaque. Twice a day may be ideal, as plaque forms every 12 to 24 hours on your teeth, and it will also make your mouth feel fresher. Be thorough but gentle with your teeth — excessive brushing or flossing can cause damage.
The use of an antibacterial mouthrinse to help reduce the plaque you may have missed as well as to reduce bacteria that are clinging to soft tissues or membranes in your mouth, should be included in your daily hygiene routine.
Tongue Test
When you run your tongue around your mouth after a professional dental cleaning, you sense a smooth, slippery feeling. This is the way your teeth should feel after you brush your own teeth every day. The tooth surfaces should feel smooth and slick throughout your mouth and at the gum line.
Floss Test
After running floss up and down a tooth surface, notice whether there is blood on the floss or whether the floss has an odor. If the floss squeaks when you run it up and down a tooth surface, that indicates that the tooth is squeaky clean.
Check for Bleeding
Bleeding gums are a sign of inflammation, called gingivitis, in the gum tissue. Healthy gums do not bleed. If you have recently begun using more effective brushing and flossing methods, your gums may bleed at first but then stop as your gums become healthier.
Use Disclosing Solutions
Disclosing solutions are harmless dyes that can stain plaque and make it visible. Rinsing with these solutions may surprise you by revealing the plaque on your teeth you had no idea you missed.
Visit Our Office
We can check your mouth and tell you how well you are doing in your program of daily plaque removal. As a bonus, we will give you a toothbrush so that while you're here we can check your technique to make sure you are brushing correctly.
Contact us today to schedule an appointment to discuss your questions about oral hygiene. You can also learn more by reading the Dear Doctor magazine article "Oral Hygiene Behavior."
By Dr. Salzberg
September 04, 2011
Oral cancer is on the rise in the United States, yet few people are familiar with the disease and its risk factors. The National Institute of Dental and Craniofacial Research (NIDCR) estimates that 35,000 Americans are diagnosed with the disease each year. The good news is that prevention and early detection can greatly reduce your risk of developing oral cancer.
Risk Factors for Oral Cancer Include:
Tobacco: Smoking and using chewing tobacco have been shown to increase the risk of developing oral cancer.
HPV virus: The Human Papilloma Virus (HPV) is the same virus linked to cervical cancer and genital warts. According to the Oral Cancer Foundation (OCF), many young people and women are being diagnosed with oral cancer as a result of exposure to the HPV virus.
Age: Although it occurs more frequently in people over the age of 40, the incidence is increasing in younger people.
Alcohol Consumption: Oral cancer is six times more common in those who drink alcohol excessively.
Diet: People who consume lots of red and processed meat and fried foods are at greater risk.
Symptoms: Alert our office if you notice a change in your mouth such as a sore that doesn't heal or bleeds easily; a lump, thickening, crust or erosion; pain or tenderness; or a change in the way your teeth are positioned. Our office can administer an easy, painless test that detects abnormal cells.
Other symptoms may include unexplained bleeding or numbness in the mouth, difficulty chewing, swallowing or speaking, hoarseness, chronic sore throat or changes in your voice.
Importance of Dental Screenings: In its early stages, oral cancer can often go unnoticed, but visiting our office regularly can ensure that any cancerous cells are detected and treated early. Our office will check your tongue and the area under your tongue, as well as your lips and palate and the back of your mouth.
Contact us today to schedule an appointment to discuss any questions that you may have regarding oral cancer. Read more about this topic in the Dear Doctor magazine article "Oral Cancer: This Article May Save Your Life."